Freediving world record attempt
Annelie Pompe, 2012, November
Annelie is interested in depth and will make an attempt for being the deepest woman ever on one breath of air. No-Limit sleddiving to 161 meters on one breath. But first she will aim for reclaiming the VWT record. If there is time the team will proceed to NLT attempts.

This text is aimed at the freediving comunity and freediving professionals

Location: The Red Sea, Sharm el sheik, Egypt


Date: 5-15th november 2012


Athlete: Annelie Pompe


Country: Sweden


Divelocation: Outside http://www.sharksbay.com



The athletes previous merits:


Climbed Mount Everest 2011


Variable weight freediving world record 126 meters (2010)


Silver medal in Freediving world Championship (2007)

First:
In the beginning of november 2012 Annelie will try to reclaim the Variable weight record.
During 2010 Annelie took the Variable weight record down to 126 meters. Down with a sled and up propelled by her monofin. This was done in the Red Sea in Sharm el sheik at the Only One apnea center. This autumn she is back in the Red sea on a boat looking for depth again. She is aiming for 130 meters.
If this record goes well and Annelie shows strength the team will move on to a No limit attempt. This will be done from a boat outside Sharm el Sheik. We will proceed with care due to the inherit risk in sleddiving. The discipline has seen some deaths and serious DCS and AIDA is no longer ratifying records (at least not now).
The planned No limit dive

The dive will be done with a so called sled.that travels along a rope down to 161 meters.

Down it will be dragged by led weights. Annelie will wear bifins that are fit into an aluminium box in a standing position. The stages of the dive are several. First it is important that she, during the breathe up, regulates carbon dioxide levels and maximizes oxygen supply. To much or too little breathing can lead to a failed dive. She will need a real full breath at the start. Even using a packing technique that enables her to squeeze more air into her lungs than a normal full breath.

Once the sled is released at her command speed is of importance. We want to minimize the dive time, oxygene must last for the predicted 3.30-4 min dive. It is also important that she spends as little time as possible to minimize risc of decompression sickness. We are aiming at a speed of more than 2.5 meters per second once the sled speeds up. Increasing pressure of the water masses will make equalization of the ear drums a challenge, specially at great speed. She will wear no mask as this is an air volume that would have had to be equalized, and thus air lost to the mask. She will be wearing a noseclip, wetsuit of 6mm thicknss and a smoothskin surface, and glasfibre bifins.

Annelie is good at equalization and her first problem will appear at 80 meters where she will have to switch eqalization method, no longer having acceess to air in the lungs. Her lung volume will when she passes 100 meters be less than one tenth of the volume at surface. She will fill her mouth and use that air for the remaining equaizations. Since the increase in pressure increases at a slower rate the deeper you go. It doubles the first 10 meters, but the inrcrease from 100 to 110 meter is only 1/10th. So one equalization of the ears at 120 may last to 135 meters. At these depths she will feel the pressure on throat and lungs (and all airfilled spaces). It will also be noticably darker and colder.

Relaxation is the key to oxygen conservation and will also reduce risc of damaging lungs. The increasing pressure can make the lung alveolis break. Many months preceding the attempts Annelie has worked with stretching and yoga techniques to prepare her for this attempt. Unfortunatly her in water training to essential depths has been fewer than hoped for. She is at the time of this writing still 35 meters away from her goal, 161 meters depth.

Doubts will be a component that can make her fail, so many factors has to work her way, not only what herself can control but the whole technical set up, the sea and the weather. Her task is during these three four minutes just to focus what is essential at the moment. She may have to break the sled again around 130-140 to deal with equalization, this will slow the dive down at a depth where speed is essential, every second spent below 100 meters will push nitrogen bubbles in her blood that can be life threatening. If the surface crew sees that she is far of the targeted dive profile, they may choose to abort the dive by starting a winch at the surface, pulling the line, bottom weight up, and eventually also the sled.

If speed is maintained and equalization works and Annelie is focused she will reach targeted depth withing 1 minute and 30 seconds. If the winsch will malfunction and anti ballast system can pull the whole system up. Weights dropped on the opposite side. Annelie herself will have 1 or even two ways she herself can return to the surface. Filling a liftbag with air (40 litres) or filling a life vest. Not much gear is built to function at 17 times the pressure at the surface. Many bold freedivers have died or been hurt for life in sled attempts, techical failure or bad planning (knowledge) and/or hybris has been some reasons.
The way up will be the easier part, feeling lungs expand again, light increasing, passing thermoclines and feeling water getting warmer. Tasting sucess. But just because she touched world record depth does not mean she has made it. She must at the surface be in such shape that she can, by herself, maintain airways above surface, make ok sign to cameras and say verbally that she is ok. The biggest risk the team must handle is DCS, decompression sickness (nitrogen buibbles in the blood that might expand and reach the brain). She will jump of the sled at about 30 meters and make a slow ascent, to help nitrogen bubbles expand slowly. She will after surfacing and the surface protocol then go directly to O2 breathing at a depth of 6-10 meters. This is to help nitrogen be vented out of her blood. Much of the performance lies in having gathered a team around her, created equipment that does the job, and prepared her body years in adavance. The dive itself, if she makes it, will feel relativly easy if everything falls into place.
The planned No limit dive (and VWT) and how we handle the risks

161 meters with weighted sled down and motor winch up poses no real challenge for breath holding. The dive will last less than 4 minutes. Equalization of ears will be the main obstacle. The lungs will at 160 meters depth (17bar) be compressed to 1/17th of their volume from the surface. This poses a real threat of lung damage.
Both carbon dioxide and nitrogen (gases in the lungs and blood) become toxic/narcotic at these depths and may threaten her mental judgment during the dive. Even if small amounts, O2 may be an issue and cause problems at this levele of pressure.
The dive will be monitored and controlled from the surface and need no active choices by Annelie. She can at any moment abort the dive herself and herself return to the surface by buoyancy device.
DCS
The main threat is the risk of decompression sickness. Usually not a problem for freedivers, but at these depths (pressure) nitrogen bubbles will form in her blood and become life threatening. It is essential to have an intelligent dive profile. If she at any point arrays from the plan, the dive will be aborted. For instance to much breaks for Equalization. The time duration below 100 meters must be held to a minimum. The descent can (when at full speed) be done at 3 meters per second, the ascent can be done by motorwinsch at a speed of 2.7 meters per second.

We will slow her ascent from 30 meters and up in order to let as much Nitrogen as possible return to a homeostasis level. As customary the dive will finish with a O2 decompression dive. In front of judges/witnesses/cameras she will only stay 30 seconds during which she will do the AIDA SP, then she is of to O2 deco.
After the O2 decompression at depth. We may add a decompression chamber check-up just in case.
We may change the customary dive profile from other known sled dives and slow down the first 30 meters of the ascent. We have indications that this may avoid pressurizing Nitrogen too fast and may avoid DCS problems at the end of the dive.
Serious
Out of 6 people that has been deeper than 160 meters (including men) two has died during sleddiving, we know of four serious cases of DCS related to freediving. But we must also note that sled diving is getting safer as experience and knowledge accumulates. Hundreds of dives have been done deeper than 100 meters with only smiles and pride as a result.
AIDA are not validating No Limit record attempts at the moment. In order to gain validity for her attempt we will aim for a transparent record attempt with many reliable witnesses. We will ask unbiased observers to take a doping test and send it in to the usual agency. A Red Bull documemtary is under production covering Annelies ambitious project.
Annelie Pompes swedish homepage: http://www.deepeverest.se

Contact: Sebastian@freediving.biz

Press/Images: emil@thenetwork.nu
THE TEAM
Emil Sergel is in charge of the film project.

The logistics of diving and UW filming are in the hands of Sebastian Naslund
Dan Burton (UK) - UW camera operations
Fredric Buyle (BEL) - UW photo
Johan T (SWE) - Sound engineer, photographer
Jaques de Vos (South Africa)- Photographer
Max Lindquist (SWE) - safety
Tango Islam (EG) - local guide
Peter Boivie (SWE) - observer
Erika Shagatay (SWE) - scientist

Sebastien Murat (global) - Consultant
Andrea Zuccari "Freediving World" - support
Sharksbay team/support: Umbi, Hosna, Alex, Saed, Beverly, Islam
AIDA Judges for the VWT attempt
Linda Pagianelli (ITA)

More info on progression on Facebook.
21st oct
Radoslaw Gaca (POLThe training sled at Only One apnea center works well down. Today Annelie spent 1 min down to 112 meters, but filling the lift bag and the return back to the surface takes too long time. Conclusion is that taking the whole sled back to the surface is not an option for deeper dives (130m+). Or use the anti ballast the first 30 meters while the liftbag gains "power".
What was thought to be a major ear barotruma, turned out, after a visit to doctor Adel Taher, to be more likely just a rest day.
20th oct
New sled has been assembled and tried out. I (Sebastian) did two trials down to 70 and 80 meters. Everything worked as planned. We used less weight than possible and current gave us a 10 degree tilt down, slowing down the sled to 1.5 meters per second. Break works perfect: there is a choice between just slowing down of stoping totally. Lift bag too small, but filling system with one lever to open valve works perfect.
19th oct
Gear is beeing assembled and built in Sharm El Sheik. Annelie has trained on Only One apnea center sled with Marco and Andrea.

One easy 90 meter dive was followed by an easy 110 meter dive but with a small complication that could have had big consequences. The airbag filled too slowly at bottom, and Annlie spent over 40 seconds below 100 meters depth. This is why we are setting up a system that is controlled from the surface, with a motor winsch.
Now we are of for 2 days of liveaboard and sled trial journey.


O2 deco after sled training.
Sled design: Sebastian + team
Sled construction: Westers Mekaniska
Diving equipment from: Poseidon
Platform and Arm by Zuccari FreedivingWorld
Buoyancy vest: design Gautier, built by Sebastian
Motor Winsch by Edvin

Consultants: Murat, F Gautier +
- Weight of bottom plate
+ arms 4 kilo


- Weight of sled 12 kilos
+ fin pocket 4 kilos.


All parts movable/detachable.


- Rope: Dyneema 9mm, 200 meters


- Cameras: Red Bull

Safety
A motorwinsch is the main retrieval system.
Back-up systems:
- Anti-ballast system
- Airtank and ballon
- Inflatable vest
- Trimix divers
- Safety Freedivers on uw-scooters.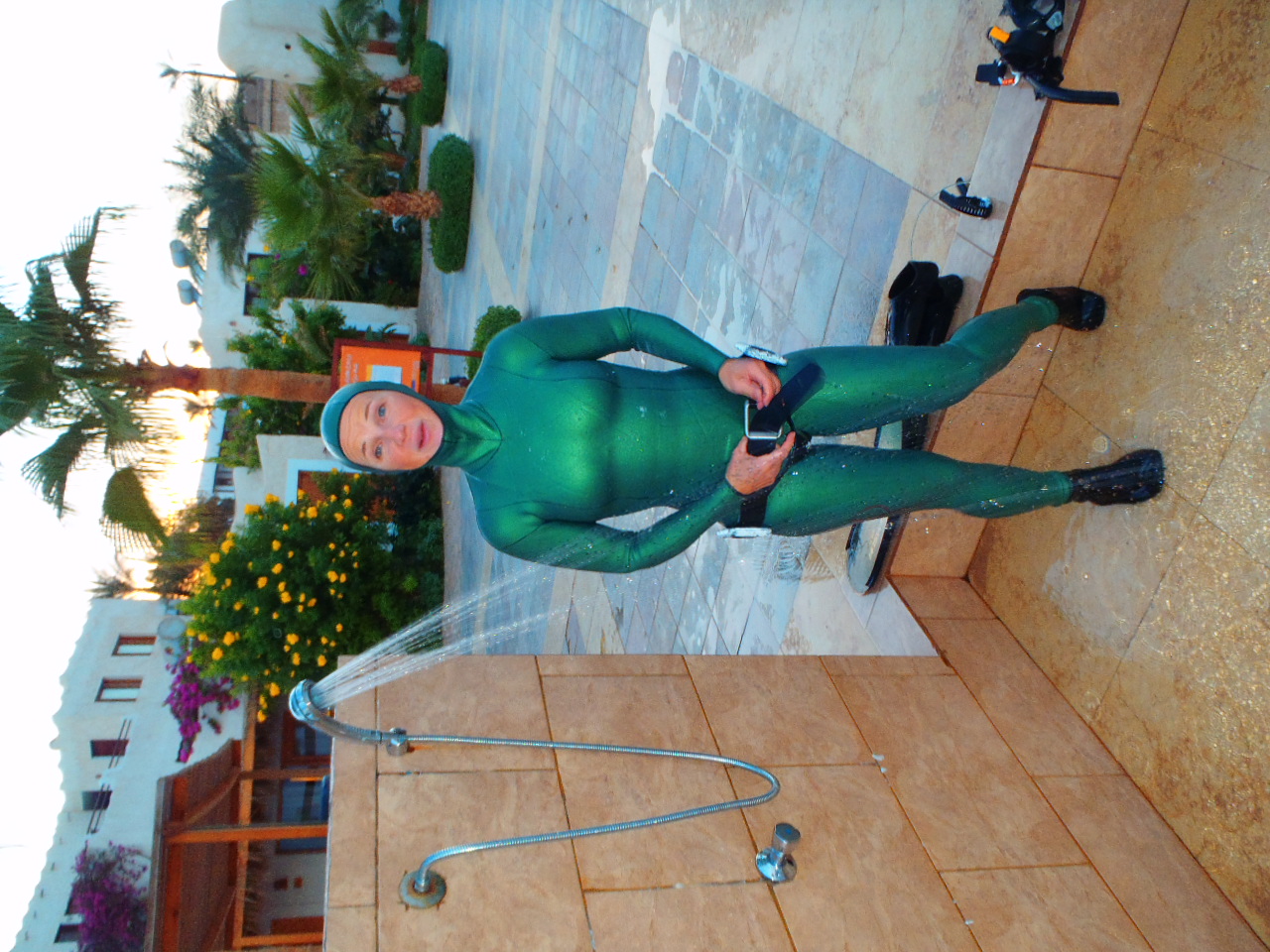 Yes you must flip your computor 90 degrees, sorry for the inconvenience