Competitiors were looking a little tired this morning as they climbed out of their trucks at Aqua Marina restaurant – three days of maximum concentration are hard on everyone. I was hoping to be starting before the break this time and get out of the water to have lunch early, but the swedish/finnish team had beaten us all to it – they were alowed to dive early as they had to dash of to the airport straight from the water.
Ingela Karlsson kicked off the competition with a clean dive to 14m – she said she doubled the record of her home island, which previously had been 7m – if she continues this trend, she will be at 112m in three competitions – go Ingela!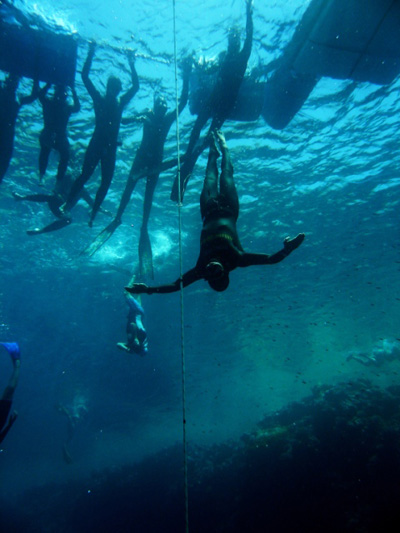 Martin Wikstrom, the man who is known for going for it no matter what, had a bad idea last night: worried that he would be too heavy at depth (he had added a fair few meters to his pb), he reduced his neckweight by 1.5 kilos, only to find himself at twenty meters after twenty strokes and still no sign of sinking. Fortunately, a clear head won over his famous stubborness and he turned to make his way safely back to the surface.
Freedivers who made their way to the competition zone were greeted by an even more outrageous sight than yesterday: Lotta Ericsson had listened to comments complaining that yesterdays Vegas outfit had not been taken to the ultimate conclusion and was now sporting a pink flowery dress in addition to the pink cowboy hat, blue suit, and yellow mask. Since a selfrespecting Italian judge naturally has a reputation to lose in all matters concerning fashion, Linda Paganelli would not be out done by a mere Swede and was wearing an outfit of her own – she was spotted posing for photographers in an even brighter pink dress and cowboy hat ensemble. The jury is still out on which of the two judges will top the 'best dressed' list – we are reviewing the photographic evidence later and will post the results asap.
Most competititors came out of the water smiling today. Meanwhile, I had steadily been building up a level of nervousness probably better suited to a 100m dive. By the time I was floating on the warm up buoy, my stomach was doing backflips every other minute, and nothing would calm it down. The 38m done in training seemed like a distant dream and the two additonal meters to 40 got longer and longer. Help was at hand in the shape of Rob King, who had been so kind as to offer me his noodle – a device designed to make any frightened freediver considerably more relaxed. All thoughts of focusing on good technique were abandoned as soon as I had my head in the water, and my coach Rob appeared surprised and impressed in equal measures that I managed to get down at all. I certainly have to say I was rarely so pleased to see the plate, or the safety diver on the way up! Back on the surface, I was smiling for the camera when judge Lotta Ericsson told me my nose was bleeding – trust a girls luck, just when you are trying to look cool, pretty and happy about a national record, you have blood all over your face. Won't be showing any of those pictures to my parents...
Liv Phillip from the UK demonstrated how to do that dive properly right afterwards. She has been very consistent throughout this competition and has impressed fellow freedivers by a new habit she clearly picked up from Will Trubrige in the Bahamas: she dives without a warm-up. All she does is float around on a bouy at the surface for some time, smiling sweetly at the mere humans who are there with precise warm-up schedules written on their hands. She says it reduces her capacity to be late...
Three clean dives put her second on points in the overall result, behind Karla Fabrio from Croatia, who showed her strength again with an easy dive to 47m.
Australias Ben Noble, who has provided amusement for his training buddies by wearing a rather mad looking pipe mask, was happy to point out another freediver with a similar contraption – his precise words were: "See – I'm not a freak!" Someone soon pointed out to him that just because there are other freaks out there, does not mean....well, you get the drift. He amazed all critics by doing a very fast, and very clean dive to 40m, though, and especially the author of this article is now keeping her mouth shut.
Most people stayed in the water for the highlight of the day: another world record dive by Natalia Molchanova, who was headed for 60m. She worked very hard to get down, obviously diving very buoyant, which allowed her to relax and float up from 15m to get back to the surface, where she just smiled, did the surface protocol and barely took a breath. A fantastic dive to end this great competition!
Signing off from the blue hole,
Anna von Boetticher (off to have a beer – and a banana milkshake...)