ADVANCED FREEDIVING CLINIC
1 - day breakpoint-special beyond aida levels.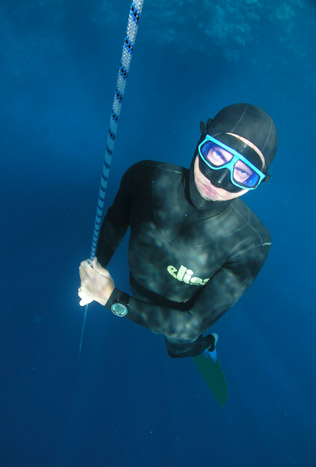 This day is about you and your body. It will be very practical with lots of exercises. It focuses on issues such as: dive response, preparation, relaxation, awareness, diet, squeeze, equalization and attitude.
At around 30-35 meter a freediver will experience new challenges. New equalization methods are needed, risk of squeeze is increased, consequences of failure are larger, mental stress builds up.
This one day course will focus on mostly land training techniques that will prepare you for greater depths. How to solve the three challenges of equalization, oxygen consumption and risk of squeeze.
- Experiments with hypoxi and hypocapnia and lactic acid.
- Simulation of depth. Heartrate, temperature and metabolism test
- Dive respons triggering methods. Breath-ups, equipment, warm-up dives. Experimental dive exercises with different lung volumes.
- Exercises of awareness (without awareness relaxation is not possible). The power of habits.
- Frenzel and mouthfill exercises.
- Neti nosecleansing and lungvolume measure (spirometri).
- Yogastretches preparing you for depth.
- Discussions regarding diet and vitamins and certain foodsuplements effect on freediving.
- Discussions - Training methods (cardio and muscle)